Welcome to The SegaSonic Database
---
The SegaSonic Databse
is a collaborative database for everything related to
SEGA
,
Sonic Team
and
Sonic the Hedgehog
. The wiki format allows anyone to create or edit any article, so we can all work together to create a comprehensive database for Sonic and SEGA fans alike.
Browse the SegaSonic Database
(
view all pages
)
M&S Winter, All-Stars Racing At Summer of Sonic: Those going to this year's Summer of Sonic convention (a joint venture between The Sonic Stadium, Sonic Wrecks and Sega Europe) will have yet another few reasons to get excited, as Mario and Sonic at the Olympic Winter Games and Sonic and Sega All-Stars Racing make their first ever playable debuts in the UK.

New M&S at the Olympic Winter Games screenshots: SEGA have released some new screenshots for both Wii and DS versions of upcoming title Mario & Sonic at the Olympic Winter Games. In the screenshots we can see new HUD bits in both versions and some on-screen Wii Remote instructions displaying how the motion controls will work in the Wii version. Graphics are looking to be some of the best we've seen on the Wii.

Sega talks about its Sonic "Road Map" and the future of blue: For a franchise with such a rough history as Sonic, it's hard to find somebody these days who doesn't have their own plans on how Sega should "fix" the character – the problem is that not everybody can agree on how, exactly, that should happen. Speaking to Kotaku, newly-crowned Sega of America Head Honcho Mike Hayes admits that it is difficult to please everyone. Read it all here: http://kotaku.com/5336675/

Touch Arcade Talks Sonic CD With Taxman: The Taxman, real name Christian Whitehead, sat down with portable gaming website Touch Arcade to discuss his Sonic CD proof-of-concept port to the iPhone, which we unveiled yesterday. Eli Hodapp asks questions to Christian about the flexibility of the RSDK and its future. Christian also manages to clear up a few misconceptions that have been swirling in comment boxes across the gaming internet. Read Taxman's Interview with Touch Arcade here: http://toucharcade.com/2009/07/29/christian-whitehead-on-sonic-cd-and-his-retro-engine/#more-14762
Helping out
To write a new article, just enter the article title in the box below.
Not sure where to start?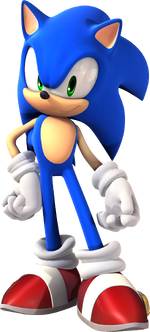 Sonic the Hedgehog (ソニック・ザ・ヘッジホッグ, Sonikku za Hejjihoggu?) is a supersonic hedgehog that can move faster than the speed of sound, with lightning reflexes to match (hence the name Sonic) and loves adventure. He acknowledges the fact that the Earth is just as cool and blue as he is. He is 15 years old, stands at 100 centimeters (3 ft 3 in), weighs 35 kilograms (77 lbs) and was born on Christmas Island. Artist Naoto Ōshima, designer Hirokazu Yasuhara and programmer Yuji Naka are generally credited with the creation of the character, a blue-furred, blue-and-peach-skinned, green-eyed 15-year-old anthropomorphic African pygmy hedgehog, who has the ability to move faster than the speed of sound and posses the ability curl up into a ball, primarily to attack enemies. This is a major part of the gameplay of the series.
Sonic seems to have a holy or avatar-like position (despite, on most occasions, being unaware about his involvement in the future of the world he's saving), as many of his adventures in the series coincide with the fulfillment of ancient prophecies, specifically his involvement in echidna legends (such as: the mural on Angel Island that depicts Super Sonic fighting Eggman for the Master Emerald). Read more...
SEGA's new secret project coming 2010.thumb|300px|left
Ad blocker interference detected!
Wikia is a free-to-use site that makes money from advertising. We have a modified experience for viewers using ad blockers

Wikia is not accessible if you've made further modifications. Remove the custom ad blocker rule(s) and the page will load as expected.